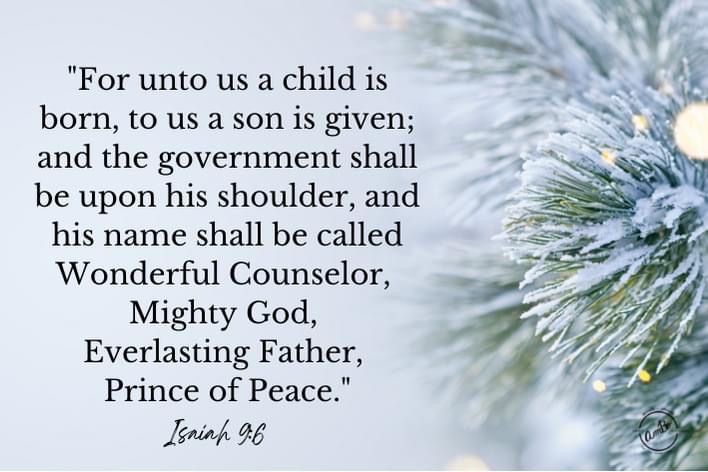 To us a son is given. A Savior for the world. Have you received this gift? It's never too late. Do it today!
𝙁𝙖𝙩𝙝𝙚𝙧 𝙂𝙤𝙙,
𝙄𝙩 𝙞𝙨 𝙬𝙧𝙞𝙩𝙩𝙚𝙣 𝙞𝙣 𝙔𝙤𝙪𝙧 𝙒𝙤𝙧𝙙 𝙩𝙝𝙖𝙩 𝙞𝙛 𝙄 𝙘𝙤𝙣𝙛𝙚𝙨𝙨 𝙬𝙞𝙩𝙝 𝙢𝙮 𝙢𝙤𝙪𝙩𝙝 𝙩𝙝𝙖𝙩 𝙅𝙚𝙨𝙪𝙨 𝙞𝙨 𝙇𝙤𝙧𝙙 𝙖𝙣𝙙 𝙗𝙚𝙡𝙞𝙚𝙫𝙚 𝙞𝙣 𝙢𝙮 𝙝𝙚𝙖𝙧𝙩 𝙩𝙝𝙖𝙩 𝙔𝙤𝙪 𝙝𝙖𝙫𝙚 𝙧𝙖𝙞𝙨𝙚𝙙 𝙃𝙞𝙢 𝙛𝙧𝙤𝙢 𝙩𝙝𝙚 𝙙𝙚𝙖𝙙, 𝙄 𝙨𝙝𝙖𝙡𝙡 𝙗𝙚 𝙨𝙖𝙫𝙚𝙙.
𝙏𝙝𝙚𝙧𝙚𝙛𝙤𝙧𝙚, 𝙁𝙖𝙩𝙝𝙚𝙧, 𝙄 𝙘𝙤𝙣𝙛𝙚𝙨𝙨 𝙩𝙝𝙖𝙩 𝙅𝙚𝙨𝙪𝙨 𝙞𝙨 𝙢𝙮 𝙇𝙤𝙧𝙙. 𝙄 𝙢𝙖𝙠𝙚 𝙃𝙞𝙢 𝙇𝙤𝙧𝙙 𝙤𝙛 𝙢𝙮 𝙡𝙞𝙛𝙚 𝙧𝙞𝙜𝙝𝙩 𝙣𝙤𝙬. 𝙄 𝙗𝙚𝙡𝙞𝙚𝙫𝙚 𝙞𝙣 𝙢𝙮 𝙝𝙚𝙖𝙧𝙩 𝙩𝙝𝙖𝙩 𝙔𝙤𝙪 𝙧𝙖𝙞𝙨𝙚𝙙 𝙅𝙚𝙨𝙪𝙨 𝙛𝙧𝙤𝙢 𝙩𝙝𝙚 𝙙𝙚𝙖𝙙. 𝙄 𝙧𝙚𝙣𝙤𝙪𝙣𝙘𝙚 𝙢𝙮 𝙥𝙖𝙨𝙩 𝙡𝙞𝙛𝙚 𝙬𝙞𝙩𝙝 𝙎𝙖𝙩𝙖𝙣 𝙖𝙣𝙙 𝙘𝙡𝙤𝙨𝙚 𝙩𝙝𝙚 𝙙𝙤𝙤𝙧 𝙩𝙤 𝙖𝙣𝙮 𝙤𝙛 𝙝𝙞𝙨 𝙙𝙚𝙫𝙞𝙘𝙚𝙨.
𝙄 𝙩𝙝𝙖𝙣𝙠 𝙔𝙤𝙪 𝙛𝙤𝙧 𝙛𝙤𝙧𝙜𝙞𝙫𝙞𝙣𝙜 𝙢𝙚 𝙤𝙛 𝙖𝙡𝙡 𝙢𝙮 𝙨𝙞𝙣. 𝙅𝙚𝙨𝙪𝙨 𝙞𝙨 𝙢𝙮 𝙇𝙤𝙧𝙙, 𝙖𝙣𝙙 𝙄 𝙖𝙢 𝙖 𝙣𝙚𝙬 𝙘𝙧𝙚𝙖𝙩𝙞𝙤𝙣. 𝙊𝙡𝙙 𝙩𝙝𝙞𝙣𝙜𝙨 𝙝𝙖𝙫𝙚 𝙥𝙖𝙨𝙨𝙚𝙙 𝙖𝙬𝙖𝙮; 𝙣𝙤𝙬 𝙖𝙡𝙡 𝙩𝙝𝙞𝙣𝙜𝙨 𝙗𝙚𝙘𝙤𝙢𝙚 𝙣𝙚𝙬 𝙞𝙣 𝙅𝙚𝙨𝙪𝙨' 𝙣𝙖𝙢𝙚.
𝘼𝙢𝙚𝙣.