Where is Ammie Speaking Next?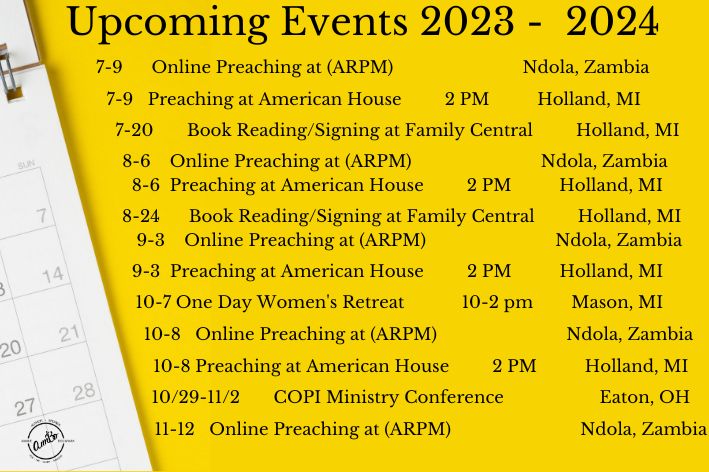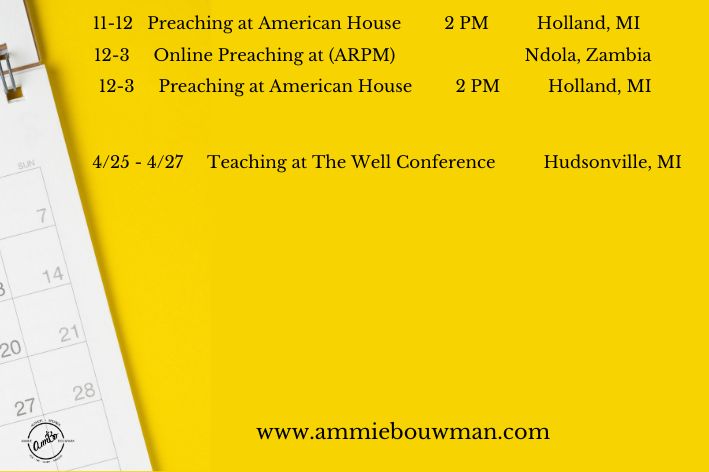 Speaking Topics
My Daughter, Your Faith Has Healed You
Finding Joy Again
It's a Battle ~ Putting on The Armor of God
Suitcases: It's Time to Lay the Baggage Down
Go the Extra Mile
What Are We Saying Outloud?
This is just a small sampling. I have written over twelve books, hundreds of messages, and sermons, and I would love to write something specifically for your event!
To find out more, email Ammie at info@ammiebouwman.com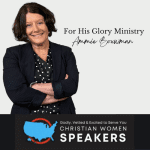 As for a testimonial, so much to say! I'll start by saying that even before we met in person, the communication that we had by email was a very positive, continual one and created even greater anticipation of your speaking engagement.
Very pleasant & godly woman to work with and to meet (finally!). We truly enjoyed your story and how God has worked in your life in so many ways. I especially was thrilled to hear that HE delivered you from your manic-depressive disorder! I have been in contact with at least 3 women in the past several months who have/are living with some type of mental illness and what a great Hope this can be to share with them and with others!
We thank God for bringing you to our group of ladies and pray that He continually uses you and guides you in the way that He'd have you go.
Thank you so very much! We all were so blessed with your message and once again reminded of the power of prayer and God's faithfulness! God said, "Trust in Me at all times, for I am your Refuge". God bless you and your ministry!
I would highly recommend Ammie Bouwman for your next inspirational speaking event. She came prepared through the Holy Spirit and touched the hearts of everyone attending. When talking with the ladies that attended our event, they each found that they had one (or many) things in common with her story and were blessed by attending.
WOW! Ammie shared her deep experiences with our women in attendance. She touched every single attendee in one way or another, very relatable and authentic. Ammie shared her struggles which were or are very similar to our very own. She is truly an example of never give up, trust God, be obedient to Him, and "God's Word is His will for you!" So many women blessed at this event!
At a time of year where we feel we "should " feel joyful, the extra stress and responsibilities of the holidays, loss of loved ones and more, can cause this to be a real struggle. Add to this the challenges we've faced in the last 2 years with COVID-19, and joy can be hard to find. At the BCC Women's Christmas Brunch, Ammie shared her own experiences in a way that allowed many to relate to her journey. She reminded us where our true joy comes from. Ammie provided encouragement and reminders from scripture that allowed the ladies attending to leave the event feeling lighter and inspired. 
It was our blessing and pleasure to have you as a guest speaker. We were blessed by your testimony of God's workings in your life. We especially enjoyed your willingness to be so vulnerable with some of the toughest moments in your life. Your smile and tears were much appreciated. Thank you very much and we hope you will return soon.
It was a joy and delight to have Ammie speak at our Ladies Christmas Tea. She spoke with a genuine and transparent heart, a spirit of truth and grace. She added the perfect touch of humor and the love of Jesus to her words! She was truly a blessing to us all!
Ammie is adorable as well as authentic. She tells her story. She shows love, trust and obedience to God. And she is fun and funny!
Ammie Bouwman is absolutely amazing. Not just in the natural form but most important spiritually. God used Ammie to speak her journey through life that helped so many women at our 2019 Women's Conference in East Bend, North Carolina. For two days the blessings of God fell upon the women. Ammie is magnificent in her own right and the anointing is all over her and her ministry. You will never be disappointed if you request her presence.