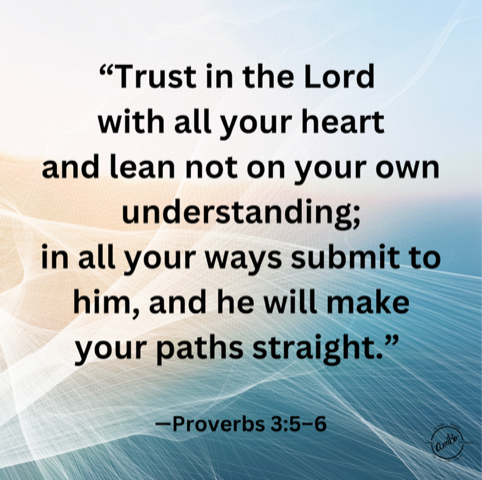 This is one of my favorite proverbs. When you're at the end of your rope, stressed by your day, searching for answers, filled with anxiety, angry or scared – notice that the verse below begins with action and ends with a promise.
"𝐓𝐫𝐮𝐬𝐭 𝐢𝐧 𝐭𝐡𝐞 𝐋𝐨𝐫𝐝 𝐰𝐢𝐭𝐡 𝐚𝐥𝐥 𝐲𝐨𝐮𝐫 𝐡𝐞𝐚𝐫𝐭
𝐚𝐧𝐝 𝐥𝐞𝐚𝐧 𝐧𝐨𝐭 𝐨𝐧 𝐲𝐨𝐮𝐫 𝐨𝐰𝐧 𝐮𝐧𝐝𝐞𝐫𝐬𝐭𝐚𝐧𝐝𝐢𝐧𝐠;
𝐢𝐧 𝐚𝐥𝐥 𝐲𝐨𝐮𝐫 𝐰𝐚𝐲𝐬 𝐬𝐮𝐛𝐦𝐢𝐭 𝐭𝐨 𝐡𝐢𝐦,
𝐚𝐧𝐝 𝐡𝐞 𝐰𝐢𝐥𝐥 𝐦𝐚𝐤𝐞 𝐲𝐨𝐮𝐫 𝐩𝐚𝐭𝐡𝐬 𝐬𝐭𝐫𝐚𝐢𝐠𝐡𝐭."
—𝐏𝐫𝐨𝐯𝐞𝐫𝐛𝐬 𝟑:𝟓–𝟔
This is putting God's Word into action.
Repeat after me. I must:
𝐅𝐢𝐫𝐬𝐭 — Trust in the Lord with all my heart.
𝐒𝐞𝐜𝐨𝐧𝐝 — Admit, right now, that I'm incapable of making good decisions, and I don't understand what's happening. But I'm not going to react; I'm going to rest.
𝐓𝐡𝐢𝐫𝐝 — With everything that I am, I will cry out to God. I will pray to Him and praise His name.
𝐓𝐡𝐞 𝐏𝐫𝐨𝐦𝐢𝐬𝐞 — He will direct my path.
Have a blessed day!